Certifications
If you want to cooperate with a reliable and reliable contractor - Janiak Logistics is a good choice.
We focus on continuous development, and the quality of customer service is our priority.
That is why we have obtained all the permissions required in our industry, including those for the implementation of ADR transport.
Familiarize yourself with our certificates to make sure that you focus on cooperation with the best.
Check also our references and see what customers say about cooperation with Janiak Logistics.
License to practice as a carrier: 018990
Do you have additional questions? Contact our advisers,
We will be happy to provide you with detailed information and present the offer of tailor made transport services.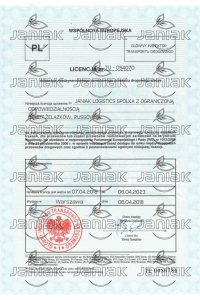 ---
European community
LICENSE No. TU-054070 Chief Inspector of Road Transport
Empowering JANIAK LOGISTICS Sp. z o.o., 62-817 Żelazków, Russów 1A
for the international carriage of goods by road on any route, for carriage or part of the carriage of goods made in the Community, as defined in Regulation (EC) No 1072/2008 of the European Parliament and of the Council of 21 October 2009 on common rules for access to international road haulage market and in accordance with the general provisions of this license.
This license is valid from 07/04/2018 to 06/04/2023
Issued in Warsaw on 06/04/2018

Chief Inspector of Road Transport
/ - /
Daniel Bet
A senior specialist
---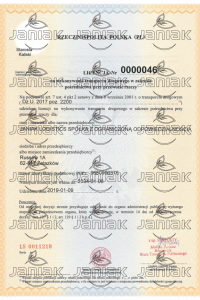 RZECZPOSPOLITA POLSKA (PL)
LICENSE No. 0000046
for road transport in the intermediation of the carriage of goods

Pursuant to Article 7 (4) (2) of the Act of 6 September 2001 on road transport (OJ 2017, poz.2200), I grant a license to perform road transport in the intermediation of the carriage of goods for: name and surname or business name : JANIAK LOGISTICS Sp. z o.o. registered office and address of the entrepreneur or place of residence of the entrepreneur: Russów 1A, 62-817 Żelazków tax identification number (NIP) 9680990376
This license is valid until: 2034-01-08
Granted on: 2019-01-09
from up. the governor
/ - /
Monika Żurawa
Manager
Public Transport Office
LICENSE No. 0000046 (document in PDF format)
---
---
ADVERTISING STUFF

---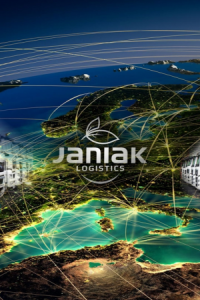 Wallpaper JANIAK LOGISTICS 1280
format: JPG (824 KB)
resolutions: 72 DPI
width: 1280 px
height: 720 px
Link to download wallpaper:
Wallpaper JANIAK LOGISTICS 1280
---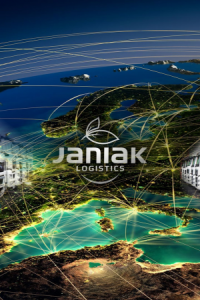 Wallpaper JANIAK LOGISTICS 1920
format: JPG (1614 KB)
resolutions: 72 DPI
width: 1920 px
height: 1080 px
Link to download wallpaper:
---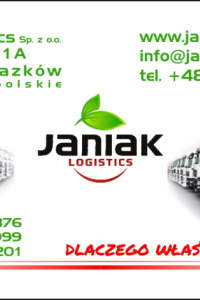 JANIAK LOGISTICS business card
format:
width: 85mm,
height: 50mm
---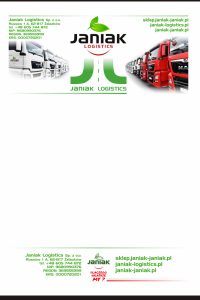 ---